A Friendly Competition
In 2010, Melink started a friendly competition called the "Good to Great Awards". This was inspired by Jim Collins's book "Good to Great: Why Some Companies Make the Leap… and Others Don't".  The goal was to challenge employees to give their best, be innovative and make Melink a great company and sustain our goals year over year.  In typical Melink fashion, we had several employees rise to the challenge and set the tone for the next 10 years.
A Step Further
We knew this was good, but can we make this friendly competition great?  2012 began a new approach and we transitioned to a healthy competition that focused on delivering quality products and services and continuously looking for ways to improve.  Now we were asking for employees to take ownership and responsibility to support our vision, mission and values.  Over the next few years, great ideas were born:
Blowing Things Up
Insanely Great Service
Purpose with Passion
Sow to Grow
Act Like a Start Up
Attitude is Everything
Core Competencies
This year's competition focuses on stewardship by an individual, team, or collective group displaying an example our newly defined core competencies and our values. Everything we do is built on Integrity, Service Excellence, and Innovation, and this past year we decided to take it a step further by adding six core competencies that we believe all of Melink employees should portray.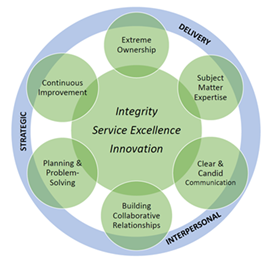 Nominating For Success
Just as we do every year, we have an abundance of nominations already. Our employees are proud to be able to acknowledge someone else's hard work. Their drive makes Melink a better place, for our employees and for our customers. A sampling of the nominations we have received this year include:
"Not only does he ALWAYS do a fantastic job on all the projects he works on, he looks out for the development of the other technicians"
"The tech worked on a site and took the time to explain what he was working on to the onsite personnel. This was not unnoticed, Melink received a glowing thank you email from the GC."
"She has been above and beyond nice to me. She helped me out when my car was in the shop by giving me a ride to and from work."
"He has persevered through probably double the workload than he previously had. Every engineering need from the sales team was met, with timely, quality results."
In February 2020, we will honor the winners at our annual company meeting.  It will be difficult to select a winner, but we know Melink will continue to strive for Greatness. This competition will help promote continual improvement.