What is the most valuable resource in the world? If you said time, I can't argue with that… However, if you said a commodity like gold, coal, or even oil, you may be shocked to learn that not even these precious natural resources compare to the inherent value of a certain intangible object. I'm talking about data — more specifically, the data that allows us to make mission-critical decisions about building health.
We live in a period known as "The Digital Revolution," where the once groundbreaking mechanical inventions of the 20th century have been enhanced by the digitization of computer software and automated control systems. Bookkeeping now consists of populating Microsoft Excel worksheets, medical records are now analyzed by computers, and checks can now be deposited with a smartphone camera. These advances in technology have, without a doubt, made our lives easier. However, many of us are overlooking the most valuable byproduct of using these machines, which is the collected data itself.
The practice of interrelating computing devices for the sake of transferring data over a digital network is known as the Internet of Things (IoT). This shared system of information allows us to collect data using multiple machines to ultimately assist humans in making better decisions.
Melink Corporation has always strived to be ahead of the curve when it comes to modernizing its products for better data acquisition.
For instance, our Intelli-Hood® kitchen ventilation system was the first of its kind back in the early 1990s. Our engineers have since continued to evolve its firmware to better integrate with building automation systems so that building owners can more closely monitor energy consumption. Users can log in to a cloud-based portal to extract real-time data to better manage their utilities. Thirty years after its inception, Melink continues to lead the industry by advancing green energy building solutions.   
In February 2019, Melink Corporation pushed the envelope for how building owners keep their workspaces healthy by launching a new product that is the first of its kind. Much like how a smartwatch can closely monitor your physical health, PositiV™ is a device that monitors your building's health.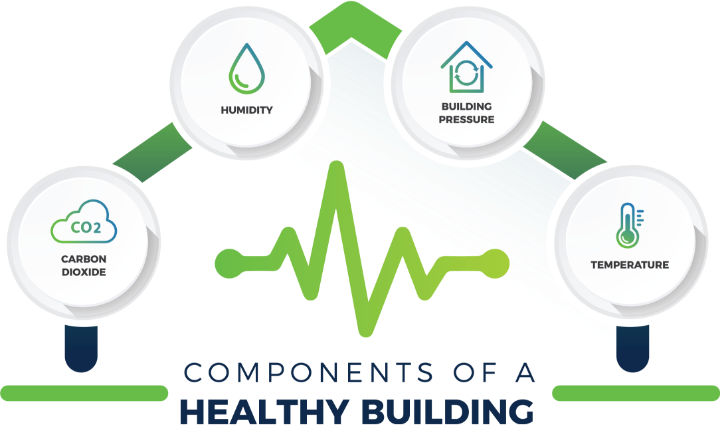 About the size of a thermostat, PositiV ™ houses a variety of sensors to detect temperature, relative humidity, CO2 levels, and building pressure. This data is collected and transferred to our online portal where users can view the live data and trend it over time. For facilities managers who operate a network of buildings across multiple cities and states, PositiV™ allows them access critical data that can both justify costly HVAC improvements and warn against sick building syndrome. How is this possible? Melink's software developers have implemented machine-learning algorithms and data visualization tools to harness the full potential of this invaluable building health data. After all, data means almost nothing if it's not thoroughly analyzed and effectively interpreted.
Similar to how doctors check blood pressure, cholesterol levels and body temperature to diagnose a patient, PositiV™ can connect seemingly unrelated data sets to draw conclusions about building health.
Building owners, feel more empowered to make the critical decisions you need to keep your occupants comfortable. Calculate how PositiV™ can help you save money and improve building health.